Description
THIS IS A MUST SELL COURSE – If this course isn't fully booked we will have to re-arrange a date until it sells out.
ZviZZer Glass Effect Certified Training Course
We were honoured to take out a group of Detailers in ZviZZer Glass Effect Certified Training Course – 30th June – 1st July April 2019 to Zvizzer's Spanish training centre and the feedback was incredible. We then sent our trainers out to become Certified Trainers with the ability to provide the brand approval training back here in Ireland.
We are delighted to now bring this training to Ireland in our new custom made training headquarters here at Autopia which is in the process of being built at the moment.
ZviZZer Accreditation – learn the most efficient use of fantastic products from sanding to ceramic coating.
During these two training days, the complete ZviZZer system will be presented intensively and the necessary knowledge will be taught, in theory, and practice, in order to achieve absolute top results in car detailing.
The training includes the following topics:
Sanding System (Glass Effect)
Polishing via rotary & Dual Action Polishers (Polishes and Pads) including new thermo pads & one system
Ceramic Coatings
Approval is taken over 2 long days of training, brand ethos is discussed, history, hands-on experience developing good technique, obtaining maximum efficiency from the range of pads and compounds, their unique glass effect sanding system and world-first interface system and protection range including their ceramic coating range.
Each participant receives an official certificate after the training, which distinguishes him as a competent ZviZZer partner.
Day 1:
Brand history and ethos
Sanding
Pad technologies and a full brand range of offerings
Scrap panel work –  development of good working techniques and testing different combinations
Day 2:
Initial vehicle inspection – what conversation you should be having with the customer;
Paint types, accessing the paintwork and doing the right test spots to determine the correct combination for the job at hand;
Machine types and their differences;
A demo car is present and the class will machine polish it and install a ceramic coating.
Each Certified Detailer will be given a completion certificate with an individual serial number. Each Detailer will then be added to the Zvizzer website showing you have met the brand's standards.
Each participant receives an official certificate after the training, which distinguishes him as a competent ZviZZer partner. This Certificate will also contain your personal ZviZZer ID and country code to identify you clearly as a ZviZZer Competency Partner.
Date: Thursday 22nd Feb- Friday 23rd Feb 2024
Time: 9.30am – 5.30pm
Costs: €600 including meals during the training and evening dinner. If you need accommodation please speak with us to get the best rates on our local hotel partner.
Deposit: €300 non-refundable required. The full amount must be paid by 2nd Feb 2024.
Place: This course will take place at our custom-built training centre at Autopia Ltd, Mount Prospect, Fuerty, Co. Roscommon, F42 VF51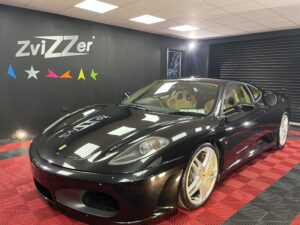 PLEASE NOTE YOU CAN PAY TWO DEPOSITS AT SEPERSATE TIMES IF WISH OTHERISE PAY IN FULL