Buying a new car in the new year?
21 Dec 2016
Buying a new car in January? Don't wait until you see wear and tear and scratches on the paint work before waxing your new car. The best time to apply wax is when the car is brand new. Although you are purchasing a brand new car, by the time you buy it and get it home the paint is perfectly dried, cured and hardened and ready to be sealed with a coat of wax, a synthetic paint sealant or a paint coating.
We offer a wide range of sealants/waxes including Soft99 Fusso 12 month sealant wax that consists of fluorine polymer, which has a sufficient anti-fouling ability to protect the car surface from rain, dirt and other unwanted residue. Its thick hard coating repels water strongly, as water smoothly runs down and off the car surface. The effects will last up to 12 months and keep the car in a good condition for a long period of time. Furthermore, the hard paste wax can create clear gloss on the car body.
You can simply, top up each month with our Autopia Ultimate Detailer which will add to the gloss and water repelling properties.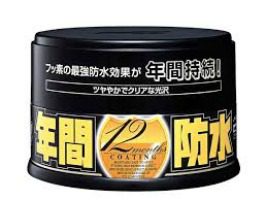 ---
Leave a Reply
You must be logged in to post a comment.