Marc Leddy Review – Tac System Moonlight Coating
11 Apr 2018
Marc Leddy Review – Tac System Moonlight Coating
Working my way through the tac systems range at the moment and 2 stand out products for me are the tyre dressing and moonlight.
Thanks again to Gerry Gordon for supplying.
Moonlight…. What's the product blurb?
Product Description: Moonlight is an oil-based maintenance coating, containing 20-25% SiO2. Moonlight lasts up to 9 months as sole protection while greatly enhancing gloss to vehicle surfaces. While primarily used as a topper to SiO2 coatings, Moonlight functions as a highly durable stand alone coating. A deep gloss with SiO2 protection that lasts up to twice as long as traditional waxes and sealants, Moonlight helps vehicles maintain that 'just detailed' look.
Durability: 9 months.
Common Uses: When applied all Exterior vehicle surfaces and to wheels, Moonlight helps maintenance cleaning super fast and simple.
Warnings: Wear gloves. Ensure application area is free of loose contamination.
Directions: Clean and dry all exterior vehicle surfaces thoroughly. Apply out of direct sun to cool vehicle panels.
1] With a dedicated MF suede or MF applicator pad, apply a small amount of moonlight to the applicator then begin to work it in, one panel at a time. It spreads out very well… a little goes a long way.
2] Once applied allow moonlight to dwell for 1-3 minutes, then using a clean soft MF towel, buff the surface until all excess product is removed.
* Moonlight requires 2-4 hours of cure time before water exposure.
What was my experience of the product? Well I couldn't have found it easier. I applied like a ceramic with an applicator block in straight overlapping lines. Allowed a few mins cure and buffed off with a short nap map cloth.
The tyre dressing isn't really a gel but not thin water consistency. I automatically presume ld this was a solvent based dressing given the durability however brand suggests that the product actively prevents tyre cracking and improving elasticity. More info is definitely needed on this but I've been massively impressed so far. Its clear the dressing protects as well as dresses.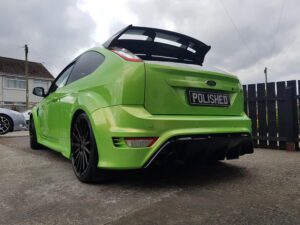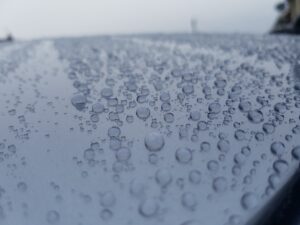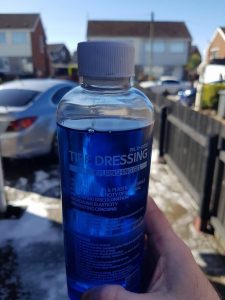 ---
Leave a Reply
You must be logged in to post a comment.