The best car wax on the market for the best shine…Soft99 King of Gloss!!
05 Oct 2016
There are many car waxes on the market that claim to achieve the best finish and shine but we have the results to prove that Soft99 King of Gloss wax truly is the best!!
These pictures speak for themselves. Sent to us by one of our customers, they were amazed at how easy it was to apply the car wax. The high gloss finish is superb and will last 3-6mts depending on weather. The King of Gloss comes in light for lighter colour paintwork such as whites and metalics and dark for darker colours such as blacks, reds, greys.
Your car may need an extra layer of protection coming into the harsh Irish Winter and Soft99 Fusso 12mt sealant may be the best product for you. This amazing car wax also contains a sealant to further protect the paintwork for a longer period of time. This car wax has recently won the coveted Best Car Wax 2016 by Auto Express. You can check out the review here. The Soft99 Fusso Coat takes a little effort to buff after waiting 10-15 minutes for it to haze, but there's no dusting and the result is worth it. It also comes in dark or light depending on the colour of the paintwork.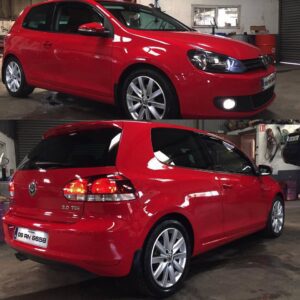 ---
Leave a Reply
You must be logged in to post a comment.